You're using an outdated browser. Please upgrade your browser or activate Google Chrome Frame to improve your experience.
Categories
Tuna and penne pasta bake
Search Products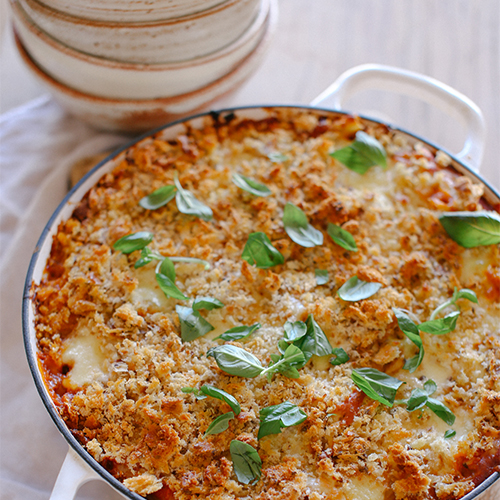 Tuna and penne pasta bake
Ingredients
1 x 500g packet penne pasta
1/4 cup extra virgin olive oil
1 brown onion, peeled and finely diced
2 cloves garlic, peeled and finely chopped
600g tin tuna in oil, drained
1 1/2 jars Paul Newman's Own Homestyle Bolognese Pasta Sauce
1 cup mozzarella, shredded
1/2 cup cheddar cheese, grated
1/2 cup fresh breadcrumbs
Basil leaves, to scatter
Method
Preheat oven to 200C. Cook penne according to packet instructions, drain (reserving about 1/2 cup of the cooking water) and set aside. Meanwhile, heat 4 tablespoons of the olive oil in a large, deep-sided (oven-proof if possible) frying pan over medium-low heat. Cook for five minutes or until the onion is translucent then add the garlic and cook for another minute or so, stirring often.
Add the tuna and pasta sauce to the pan and gently stir to combine. Now stir in the cooked pasta and add the reserved pasta water if it's looking at all dry. Dot the top with the bocconcini, sprinkle with the cheddar and breadcrumbs and drizzle with remaining olive oil.
Place in the oven to cook for 30 minutes or until the breadcrumbs are golden and cheese melted and bubbling. Scatter with the basil leaves and serve with a fresh green salad.
[wp_social_sharing social_options='facebook,twitter' facebook_text='' twitter_text='']