You're using an outdated browser. Please upgrade your browser or activate Google Chrome Frame to improve your experience.
Categories
Tomato Tonnato with Caper and Bacon Pangrattato
Search Products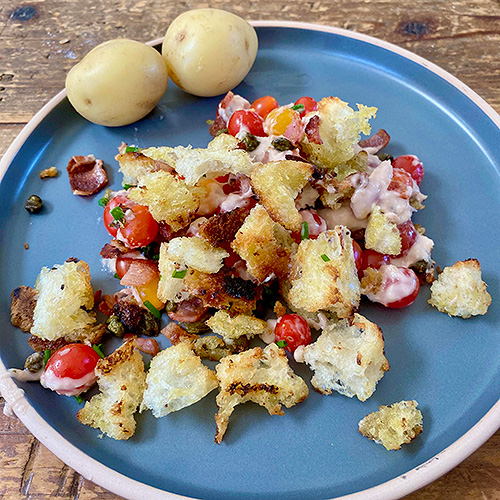 Tomato Tonnato with Caper and Bacon Pangrattato
Ingredients
Matt Preston, one of Australia's leading food journalists and TV personalities, has developed a delicious recipe using our Creamy Caesar Dressing. Matt is a passionate advocate for food security and food rescue.
Stale bread – one of our most wasted food purchases in the home – is the hero in this bright salad that is popping with flavour and bursting with contrasting textures.
Plus using Paul Newman's Own® Creamy Caesar dressing makes for the easiest tuna mayo you'll ever make.
½ cup Paul Newman's Own Creamy Caesar Salad Dressing
190 g tinned tuna in spring water (two small cans, drained)
250 g smallest tomatoes, quartered (I used tiny Tomberry tomatoes from Grovedale in Victoria, so i didn't need to cut them, but cherry tomatoes or Perino would do just as well)
FOR THE CAPER PANGRATTATO
Olive oil
4 rashers or bacon or prosciutto, diced small. (i.e., size of the capers)
1 cup bread pieces. Tear up the stale bread into small pieces.
¼ cup of small capers (drained and patted dry)
GARNISH
Chives and lemon zest to garnish.
Optional garnish: fillets of baby sardines or Italian-style tuna slices.
SERVING SUGGESTION
Serve with a crisp green salad and small boiled potatoes like chats, if you want to bulk up the salad to a main meal.
Method
Pound the drained tuna in a mortar and pestle until smooth. Fold in the Paul Newman's Own® Creamy Caesar. You can mash the tuna with the back of spoon if you don't have a mortar and pestle.
Fry the bacon dice until crispy. Remove with spoon, leaving the rendered fat in the pan. Add a good glug of olive oil and heat to sizzling. Add the pieces of bread and toast. Toss to ensure all sides of the bread get kissed by the heat.
When the bread is crispy and golden in places add the capers and fry for a couple more minutes. Add the bacon. Toss and remove from the heat while you plate.
Arrange the tonnato (creamy Caesar tuna) on the base of the plate. Top with the tomatoes. Spoon over a generous smattering of caper pangrattato. Garnish with snipped chives and freshly grated lemon zest.
[wp_social_sharing social_options='facebook,twitter' facebook_text='' twitter_text='']