You're using an outdated browser. Please upgrade your browser or activate Google Chrome Frame to improve your experience.
Categories
Tomato & ricotta cannelloni
Search Products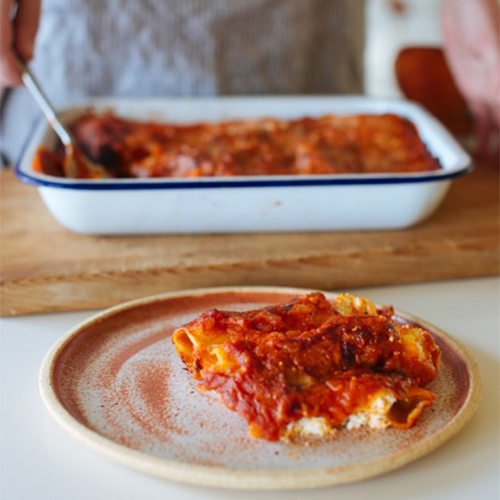 Tomato & ricotta cannelloni
Ingredients
1/2 cup olive oil
1 brown onion
1 clove garlic
1/2 cup white wine
1 x bottle Paul Newman's Own Homestyle Bolognese Pasta Sauce
600g ricotta
1/2 cup parmesan, finely grated
zest of one lemon
2 tbsp lemon thyme leaves, finely chopped
1 egg
16 dried cannelloni tubes
Method
Preheat oven to 180C.
Heat 1 tbsp of olive oil in a medium frying pan and cook the onion for five minutes, or until translucent. Add the garlic and cook for a further minute. Now add the wine, cook for a minute and then tip in the pasta sauce. Bring to a boil then reduce heat to simmer for 10 minutes and season to taste.
Combine the ricotta, most of the parmesan, zest, thyme and egg. Spoon half of the tomato sauce mixture on the base of a large baking tray. Then divide ricotta mixture among the cannellini tubes (a piping bag or snap-lock bag with the end snipped off is an easy way to do this) and arrange filled tubes in the baking tray. Top with the rest of the tomato sauce and sprinkle with the remaining parmesan. Bake for 30 minutes, until the pasta is tender.
[wp_social_sharing social_options='facebook,twitter' facebook_text='' twitter_text='']