You're using an outdated browser. Please upgrade your browser or activate Google Chrome Frame to improve your experience.
Categories
Spiced Dutch Carrots with Hazelnut Crumb and Ranch Dressing
Search Products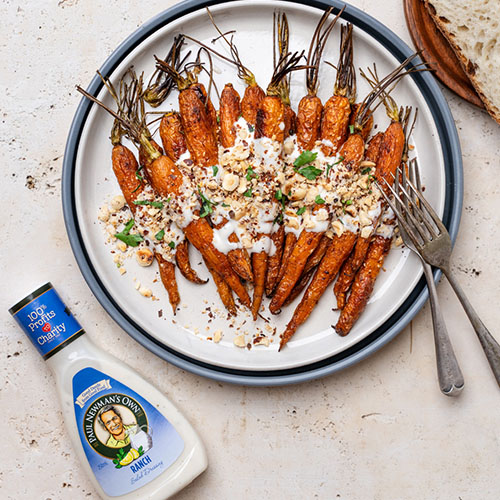 Spiced Dutch Carrots with Hazelnut Crumb and Ranch Dressing
Ingredients
2 bunches dutch carrots, greens trimmed off and carrots washed well
1 teaspoon ground cumin
1 teaspoon ground coriander
2 tablespoons extra virgin olive oil
½ cup flat-leaf parsley, roughly chopped
1 lemon, sliced into cheeks, to serve
⅓ cup Paul Newman's Own Ranch Dressing, to serve
 
Hazelnut Crumb
¼ cup hazelnuts, roughly chopped
1 teaspoon coriander seeds
1 tablespoon white sesame seeds
½ teaspoon flaky sea salt
Method
Preheat the oven to 180°C. Spread the carrots over a large baking tray. Sprinkle over the cumin, coriander and a good pinch of sea salt. Drizzle over the olive oil and toss with your hands. Spread the carrots across the tray and place into the oven to bake for 35 minutes until browned and softened.
While the carrots are roasting, make the Hazelnut Crumb. Add the hazelnuts, coriander seeds and sesame seeds to a large frying pan over medium heat. Toast for 5 minutes, tossing regularly until lightly golden. Tip into a mortar and pestle (or into a food processor), add the sea salt and pound (or pulse) until fine.
Place the roasted carrots onto a serving plate. Drizzle over the Paul Newman's Own Ranch Dressing, squeeze over the lemon juice and spoon over the Hazelnut crumb to serve.
Serves 4
Prep time 20 mins
Cook time 35 mins
[wp_social_sharing social_options='facebook,twitter' facebook_text='' twitter_text='']