You're using an outdated browser. Please upgrade your browser or activate Google Chrome Frame to improve your experience.
Categories
South-west beef burger with avocado salsa & Chipotle Ranch
Search Products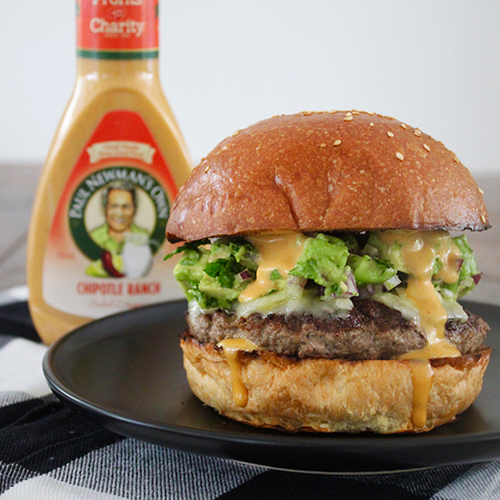 South-west beef burger with avocado salsa & Chipotle Ranch
Ingredients
2 large avocadoes, diced
Juice of 1 lime
½ bunch coriander, roughly chopped
1 red onion, diced
500g beef mince
1 egg
½ cup breadcrumbs
1 garlic clove, crushed
1 teaspoon crushed chilli
1 teaspoon ground cumin
Salt
2 teapoons oil
8 slices cheddar cheese
4 buns, cut in half
4 tablespoons Paul Newman's Own Chipotle Ranch Dressing
Method
In a small bowl, mix the avocado, lime juice, coriander, and half of the onion. Set aside.
In a large bowl, thoroughly mix the beef mince, remaining onion, egg, breadcrumbs, garlic, chilli, cumin and a pinch of salt. Roll into 4 balls and flatten into patty shapes.
Heat a large frypan over medium heat and add the oil. Add the beef patties and cook for 4 minutes, or until slightly charred. Flip the patties, and top each one with two slices of cheese. Cook for a further 3 minutes, or until cooked through, before removing from the heat.
Lay the buns on a workbench, and spread with Paul Newman's Own chipotle ranch dressing. Place a patty on each bun, and top with avocado salsa. Serves 4.