You're using an outdated browser. Please upgrade your browser or activate Google Chrome Frame to improve your experience.
Categories
Smoked salmon lemony rice pilaf
Search Products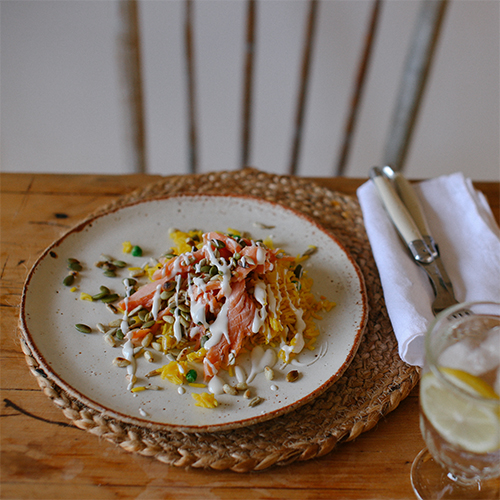 Smoked salmon lemony rice pilaf
Ingredients
1 onion
50g butter
Zest and juice of one lemon
1/2 tsp ground cumin
1/2 tsp ground coriander
1/4 tsp turmeric
1 cup basmati rice
2 1/2 cups chicken or fish stock
1 cup frozen peas
400g hot smoked salmon, flaked
Paul Newman's Own Ranch Dressing
1/2 cup sunflower and pumpkin seeds, toasted, to serve
Method
Melt half of the butter in a large, heavy based saucepan (with a lid). Add the onion and cook, on medium-low heat for 5 minutes, or until the onions are soft and translucent. Add the lemon zest, spices and cook for another minute or two. Now pour in the stock, you should have enough so it comes about 2 cm above the rice. Cover with a lid, reduce heat to low and cook for 15 minutes. Test to see if the rice is cooked through and add a little more water and time if necessary. Stir the frozen peas, lemon juice and remaining butter through the pilaf, replace lid and leave (off the heat) for five more minutes.
Serve a mound of pilaf on each plate, top with the salmon, a few of the toasted seeds and then drizzle to taste with the Ranch dressing.
[wp_social_sharing social_options='facebook,twitter' facebook_text='' twitter_text='']