You're using an outdated browser. Please upgrade your browser or activate Google Chrome Frame to improve your experience.
Categories
Smashed Potato + Bacon Salad with Feta Cream
Search Products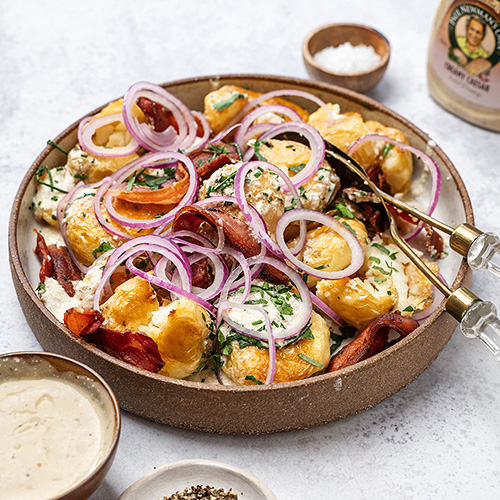 Smashed Potato + Bacon Salad with Feta Cream
Ingredients
1 kg white cocktail potatoes, or any white potato scrubbed clean and chopped into 4cm chunks
2 tablespoons extra virgin olive oil
200 g streaky bacon slices
2 garlic cloves, skin left on
½ cup flat-leaf parsley, finely chopped
¼ cup chives, finely chopped
½ small red onion, very finely sliced
Feta Cream
¼ cup Paul Newman's Own Creamy Caesar Dressing
50 g Danish or goat feta
½ lemon, juiced
½ teaspoon flaky sea salt
Freshly ground black pepper
Method
Bring a large pot of water to a boil. Add in the potatoes and boil for 20 minutes until soft when pierced with a knife. Drain and tip potatoes onto a large baking tray. Using the back of a fork, crush the potatoes until they crush and flatten. Drizzle over the olive oil, ensuring to coat the potatoes well as this will help crisp them up. Place the garlic cloves, still in their skins onto the baking tray, too. Place into the oven and bake for 25 minutes until crispy.
Remove the tray, pick out the garlic cloves and place the bacon slices on top. Place the tray back into the oven and turn to high grill. Grill for 15-20 minutes until the bacon is crispy.
Meanwhile, squeeze the garlic out of their skins and into a small bowl. Add in the feta and mash together with the back of a fork. Add in the Paul Newman's Own Creamy Caesar Dressing, lemon juice, salt and a few grinds of black pepper. Mix, and continue to mash with the back of the fork until you create a smooth cream.
Remove the potatoes and bacon from the oven and place into a serving bowl. Top with the parsley, chives, red onion slices and dollop over the Feta Cream.
Serves 4-6 as a side
Prep time 10 mins
Cook time 40 mins
Credits
Recipe: Meg Yonson
Styling and Photography: Una Más
[wp_social_sharing social_options='facebook,twitter' facebook_text='' twitter_text='']