You're using an outdated browser. Please upgrade your browser or activate Google Chrome Frame to improve your experience.
Categories
Slow cooked lamb shoulder
Search Products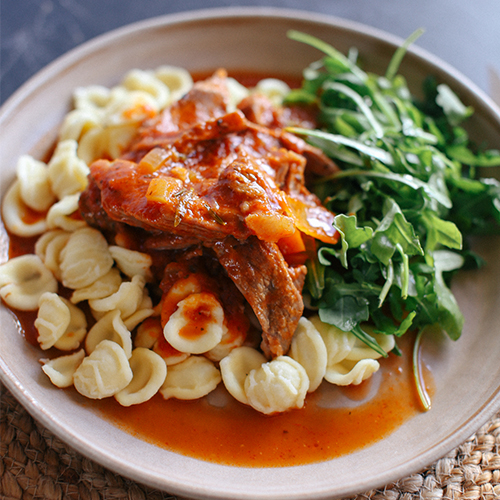 Slow cooked lamb shoulder
Ingredients
1kg lamb shoulder (cut into 2-3 large pieces).
1 carrot, 1 onion, 1 large garlic clove and 1 celery stick, all coarsely chopped
Juice of 2 oranges
2 glasses hot water
1 glass red wine
1/2 jar Paul Newman's Own Bolognese Pasta Sauce
Handful of small black olives
Method
1. Heat 4 Tbsps. of olive oil in a large casserole dish or pot.
2. Sear the meat and set aside. Add all chopped vegetables and cook to tender and slightly brown.
3. Add the meat, red wine, orange juice and water and cook for 20 minutes gradually adding the Paul Newman's Own Bolognese Pasta Sauce.
4. Cover the pot and continue cooking turning over occasionally for 3 -3½ hours.
5. During the last 1/2 hour add some small black olives and take the lid off to evaporate excessive liquid ( if there is not enough liquid to keep the meat moist add water or stock).
6. Remove the meat and skim fat from the top or place sauce in the fridge (when cool), let the fat set and remove. (Meat can be reheated in the sauce, even the day after.)
Serve with polenta or mashed potatoes scattered with a handful of parsley leaves, coarsely chopped, a little grated orange peel on top and a slurp of extra virgin olive oil.
[wp_social_sharing social_options='facebook,twitter' facebook_text='' twitter_text='']