You're using an outdated browser. Please upgrade your browser or activate Google Chrome Frame to improve your experience.
Categories
Quinoa, chicken & spinach
Search Products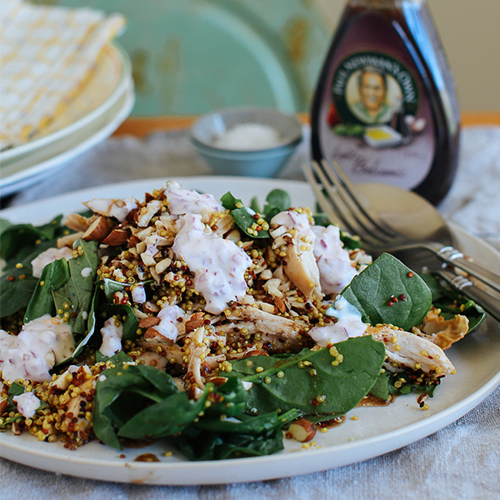 Quinoa, chicken & spinach
Ingredients
1 cup quinoa
1/2 tsp ras el hanout (Moroccan spice mix)
250g shredded BBQ chicken
1 handful baby spinach leaves
1 handful basil leaves, roughly torn
1/4 cup natural almonds, toasted and roughly chopped
4 tbsp Paul Newman's Own Balsamic Dressing
1/4 cup natural yogurt
1/2 tsp dried chilli flakes (or to taste)
Juice of one lemon
1/2 red onion, finely chopped
Method
Place the quinoa in a saucepan with the ras el hanout and one and a half cups of boiling water. Simmer on low heat for five minutes then drain.
Mix together the quinoa, chicken, spinach, basil and almonds. Gently toss in the Balsamic Dressing, season to taste and serve drizzled with the yogurt mixture.
Combine the yogurt, chilli flakes, lemon juice and red onion in a small bowl and mix to combine. Serve this on the side or drizzled over the top.
[wp_social_sharing social_options='facebook,twitter' facebook_text='' twitter_text='']