You're using an outdated browser. Please upgrade your browser or activate Google Chrome Frame to improve your experience.
Categories
Prawn + Chorizo Skewers with Creamy Paprika Dipping Sauce
Search Products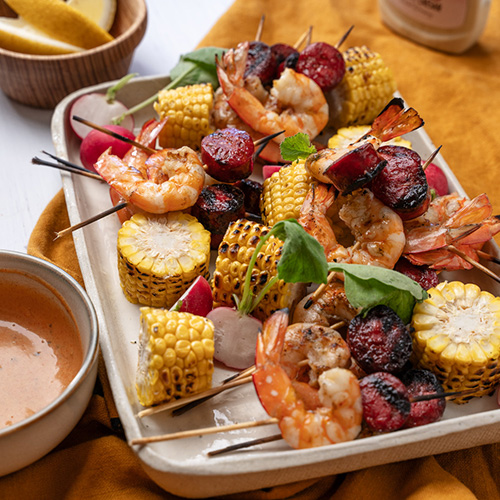 Prawn + Chorizo Skewers with Creamy Paprika Dipping Sauce
Ingredients
500 g raw prawns (you'll want 16 in total), peeled and deveined, tails left on
2-3 x chorizo, cut into 1 cm thick rounds
16 small wooden skewers, soaked in water for 10 mins to avoid burning
2 corn cobs, husk removed
1 bunch radish, bulbs sliced into wedges
1 lemon, sliced into wedges, to serve
Creamy Paprika Dipping Sauce
½ cup Paul Newman's Own Creamy Caesar Dressing
1 teaspoon smoked paprika
1 lemon, zested
½ teaspoon flaky sea salt
Pinch of freshly ground black pepper
Method
Thread one prawn and one slice of chorizo onto each bamboo skewer. Drizzle a little olive oil over each of them.
If cooking on the BBQ: Heat the BBQ to high and add in the whole corn cobs and the Prawn + Chorizo skewers. Cook, turning the corn every few minutes until charred all over, and turning the skewers after 1-2 minutes until the prawns are cooked through and the chorizo is charred.
If cooking in the kitchen: Preheat your oven grill to high. Drizzle the corn cobs with a little olive oil and place them on a baking rack in the top half of the oven. Cook for 10 minutes, turning every couple of minutes, until the corn is charred. Meanwhile, heat a large frying pan over medium-high heat. Add a little olive oil to the pan and cook the skewers in batches for 1-2 minutes on each side until cooked through.
Carefully take the charred corn, hold one end with tongs and then using a sharp knife, slice the corn into 3 cm-thick rounds.
To make the Creamy Paprika Dipping Sauce, add all ingredients to a bowl and mix well to combine.
Serve the Prawn + Chorizo Skewers on a large platter with the Creamy Paprika Dipping Sauce. Scattered around the BBQ'd corn and radish wedges. Serve lemon wedges on the side so people can squeeze over if they like.
Serves 4
Prep time 20 mins
Cook time 15 mins
Credits
Recipe: Meg Yonson
Styling and Photography: Una Más
[wp_social_sharing social_options='facebook,twitter' facebook_text='' twitter_text='']