You're using an outdated browser. Please upgrade your browser or activate Google Chrome Frame to improve your experience.
Categories
Mozzarella sticks with ranch dressing
Search Products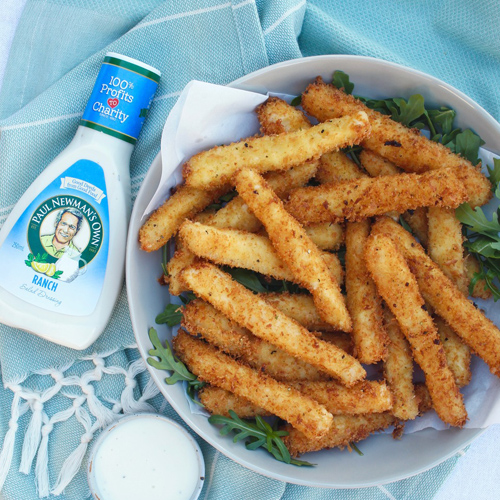 Mozzarella sticks with ranch dressing
Ingredients
1 large mozzarella ball, approximately 450g
¾ cup plain flour
Salt
2 eggs
¼ cup milk
2 cups panko breadcrumbs
2 teaspoons lemon pepper
1 teaspoon dried oregano
1 litre canola oil
Paul Newman's Own Ranch Dressing
Method
Slice the mozzarella ball into fingers about 1cm thick.
Find a large baking tray that will fit in the freezer, and line with non-stick paper.
Set up a crumbing station by placing three medium bowls on a workbench. In the first bowl, mix the flour and a big pinch of salt. To the second bowl, add the eggs and milk, and whisk well to combine. In the third bowl, add the panko breadcrumbs, lemon pepper and dried oregano, and mix to combine. A few at a time, toss the mozzarella sticks in the flour, coat in egg, roll generously in breadcrumbs, and place on the prepared baking tray. Repeat until all of the mozzarella is crumbed. Place the tray in the freezer for 30 minutes.
Place a large saucepan (approximately 20cm diameter) over medium-high heat and add the canola oil. Heat for 3 minutes. To test that the oil is the correct temperature, place one frozen mozzarella stick into the oil. The mozzarella stick should turn golden brown in 1-1.5 minutes, and be beginning to melt on the inside. Place the mozzarella stick onto paper towel to drain. Working in batches to avoid crowding the pan, continue to fry the mozzarella sticks until they are all cooked. Place on a serving platter with Paul Newman's Own Ranch Dressing, and serve immediately.
[wp_social_sharing social_options='facebook,twitter' facebook_text='' twitter_text='']