You're using an outdated browser. Please upgrade your browser or activate Google Chrome Frame to improve your experience.
Categories
Mexican spiced chicken with Blackened corn & wild rice tacos
Search Products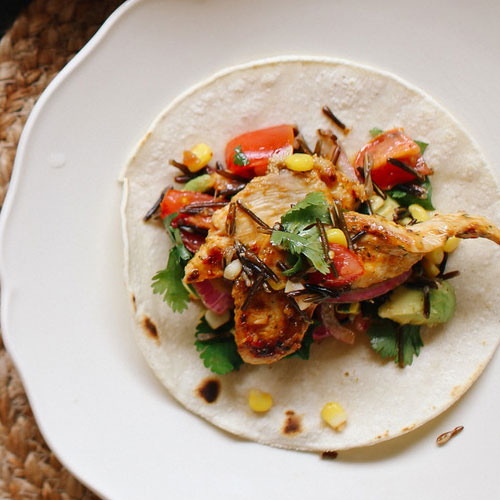 Mexican spiced chicken with Blackened corn & wild rice tacos
Ingredients
The chicken
3 x chicken breasts or thighs
salt and pepper to taste
3 tablespoons Mexican spice mix, divided measure
8 small soft taco's
The dressing
1 cup Paul Newman's Own Classic Dressing
¼ cup red wine vinegar
2 tablespoons La Morena chipotle peppers in adobo sauce, finely chopped
juice of half a lime
1 teaspoon salt, or to taste
The salad

2 cobs corn, husk removed
3 cups cooked wild rice
1 x can black beans, rinsed and drained
1 red onion, chopped
1 avacado, chopped
2 spring onions, chopped
1 x punnet mixed cherry tomatoes, sliced in half
1 good handful coriander, divided measure
Method
Place the chicken into a dish and season with salt and pepper. Sprinkle over 2 tbsp of the Mexican spice mix and combine.
To make the dressing combine all ingredients into a small bowl and whisk together. Add in the final tbsp. of Mexican spice mix and combine. Set aside.
To cook the chicken, heat a frypan over a med heat. Place 2 tbsp of olive oil into the frypan and when hot add the chicken. Cook for 4-5 minutes per side or until cooked through and the juices run clear. Set aside to rest, slice.
Meanwhile, for the salad, simply combine all ingredients and set aside.
To assemble

Lay a taco onto a clean bench or board. Top with a good spoon of the corn, rice and bean salad. Place over some sliced chicken and top with reserved coriander and a dollop of the dressing. Serve straight away.
Serves 4 Prep time 15 cook time 25
[wp_social_sharing social_options='facebook,twitter' facebook_text='' twitter_text='']