You're using an outdated browser. Please upgrade your browser or activate Google Chrome Frame to improve your experience.
Categories
Linguini with Lamb & Feta Meatballs
Search Products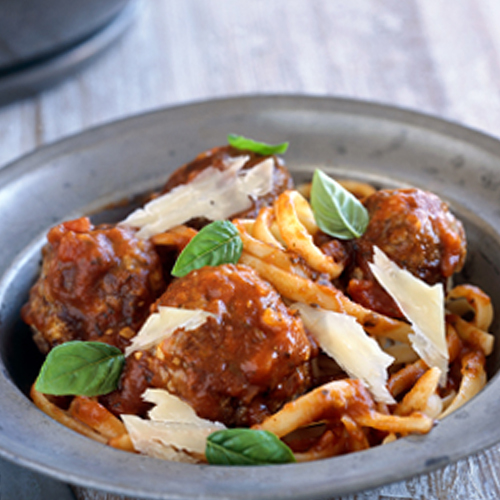 Linguini with Lamb & Feta Meatballs
Ingredients
250g linguini pasta
300g lamb mince
1 small onion, finely chopped
1 clove garlic, crushed
1/2 cup fresh breadcrumbs
1 egg yolk
60g feta cheese, crumbled
1/4 tsp salt
2 tsp olive oil
400g of Paul Newman's Own Bolognese Pasta Sauce
shaved or finely grated parmesan cheese
to serve basil leaves, to serve (optional)
Method
1. Cook pasta in a large saucepan of boiling water, until just tender; drain.
2. Meanwhile, combine mince, onion, garlic, breadcrumbs, egg yolk, feta and salt in a bowl; form heaped tablespoons of mixture into balls. Heat oil in a non-stick frypan and cook meatballs for 8 minutes or until browned all over and cooked through. Add sauce and gently stir over a low heat until heated through.
3. Serve pasta topped with meatballs, parmesan cheese and basil.
[wp_social_sharing social_options='facebook,twitter' facebook_text='' twitter_text='']