You're using an outdated browser. Please upgrade your browser or activate Google Chrome Frame to improve your experience.
Categories
Lightning fast prawn pasta
Search Products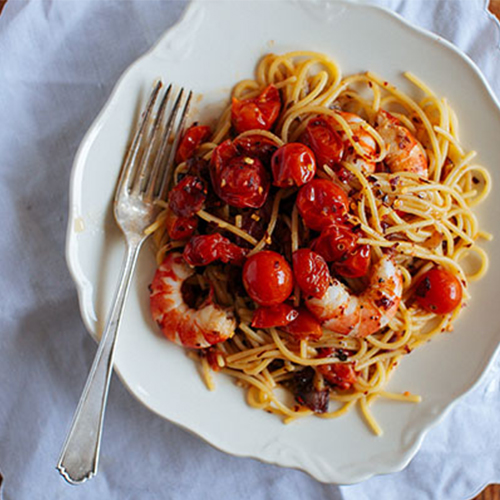 Lightning fast prawn pasta
Ingredients
400g dried spaghetti
1 red onion, finely sliced
2 tbsp olive oil
2 garlic cloves, finely chopped
1 punnet cherry tomatoes, halved
12 cooked prawns
1/4 cup Paul Newman's Own Balsamic Dressing
Chilli flakes
Method
Bring a big pot of salted water to the boil and cook spaghetti according to packet instructions.
Cook the onion in a frying pan over medium heat until soft and translucent. Add the garlic and cook for another minute.
Add the tomatoes and cook, stirring every now and then for five minutes.
Drain the pasta and at the last minute, add the prawns to the frying pan, tossing so completely warmed through.
Tip the pasta into the frying pan, add the Paul Newman's Own Balsamic Dressing and a sprinkling of chilli flakes and toss to combine. Serve immediately.
[wp_social_sharing social_options='facebook,twitter' facebook_text='' twitter_text='']