You're using an outdated browser. Please upgrade your browser or activate Google Chrome Frame to improve your experience.
Categories
Lentil Cottage Pie with Sweet Potato Mash
Search Products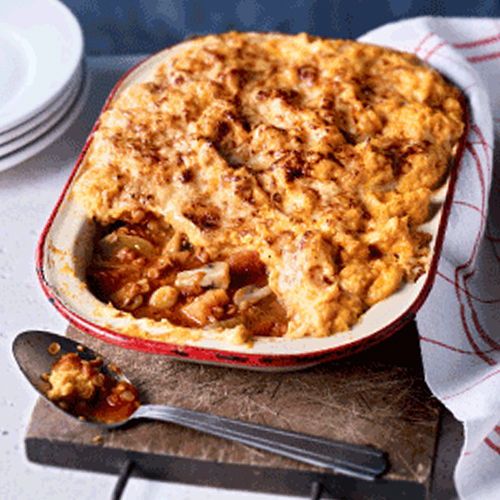 Lentil Cottage Pie with Sweet Potato Mash
Ingredients
1 tablespoon oil
1 large leek, sliced
2 carrots, peeled and roughly chopped
250 g chestnut mushrooms, quartered
150 g red lentils
450 ml hot vegetable stock
350 g of Paul Newman's Own Bolognese Sauce
1kg sweet potatoes, peeled and chopped
150 g creamy goats' cheese
25g grated cheddar
Method
1. Heat the oil in a large saucepan and add the leeks and carrots, cook for 3-4 minutes, then increase the heat and stir in the mushrooms. Cook for a further 3 minutes, stirring occasionally.
2. Stir in the lentils, stock and Bolognese sauce. Bring to the boil then cover for 20 minutes or until the lentils are tender, stirring occasionally. Transfer to a 1 litre ovenproof dish.
3. Meanwhile cook the sweet potatoes in a large saucepan of slightly salted boiling water for 15-20 minutes until tender. Drain well, return to the pan and mash with the goats' cheese and season to taste. Spoon the mash over the lentil mixture and scatter over the grated cheese.
4. Cook under a preheated hot grill and cook for 4-5 minutes, until golden and bubbling. Serve immediately with shredded green cabbage.
[wp_social_sharing social_options='facebook,twitter' facebook_text='' twitter_text='']