You're using an outdated browser. Please upgrade your browser or activate Google Chrome Frame to improve your experience.
Categories
Kale, walnut & parmesan salad
Search Products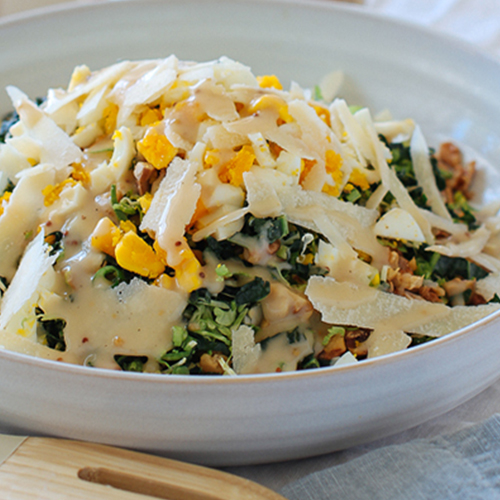 Kale, walnut & parmesan salad
Ingredients
1 bunch of kale, finely shredded
12 Brussels sprouts, finely shredded
3 green onions, trimmed and finely sliced
1 cup toasted walnuts, roughly chopped
Handful of green olives, pitted and sliced
2/3 cup parmesan, shaved
2 hard-boiled eggs, roughly chopped
1/3 cup Paul Newman's Own Classic Dressing
Method
Toss the kale, sprouts, and green onions with the dressing and lemon zest and juice. Mix well (preferably using your fingertips) and season to taste.
Add the walnuts, olives, eggs and parmesan, and gently toss once more before serving with a little extra dressing on top.
[wp_social_sharing social_options='facebook,twitter' facebook_text='' twitter_text='']