You're using an outdated browser. Please upgrade your browser or activate Google Chrome Frame to improve your experience.
Categories
Italian beef & pork meatballs
Search Products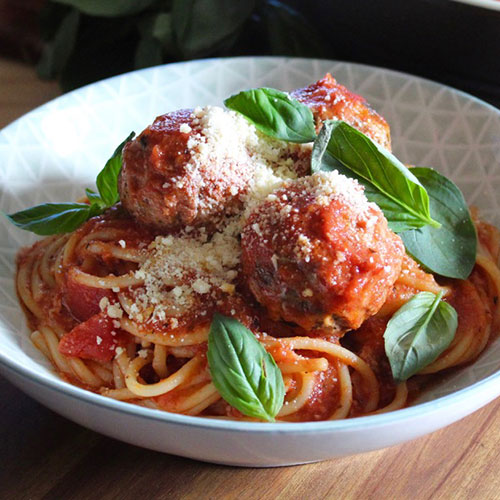 Italian beef & pork meatballs
Ingredients
½ brown onion, diced
1 clove garlic, crushed
½ bunch basil, chopped
2 eggs
½ cup breadcrumbs
Salt and pepper
500 g beef mince
500 g pork mince
1 jar Paul Newman's Own Bolognese pasta sauce
500 g spaghetti
Parmesan, to serve
Method
Preheat the oven to 180°C (350°F) and grease a large baking dish.
In a large bowl, mix the onion, garlic, basil, eggs, breadcrumbs, and a generous pinch of salt and pepper. Add the beef mince and pork mince, and mix thoroughly to combine.
Roll the mixture into balls, the size of golf balls, and place in the prepared baking dish. Top with Paul Newman's Own Bolognese pasta sauce. Add 1 cup of water to the jar, shake around, and pour the contents over the meatballs. Cover with aluminium foil and place into the oven for 30 minutes. Remove the foil and cook for a further 15 minutes.
As the meatballs are cooking, cook the spaghetti as per the packet instructions. To serve, toss some of the meatball sauce through the cooked, drained spaghetti. Divide the spaghetti between serving bowls, and top with meatballs and parmesan. Serves 6.
[wp_social_sharing social_options='facebook,twitter' facebook_text='' twitter_text='']