You're using an outdated browser. Please upgrade your browser or activate Google Chrome Frame to improve your experience.
Categories
Italian baked chicken
Search Products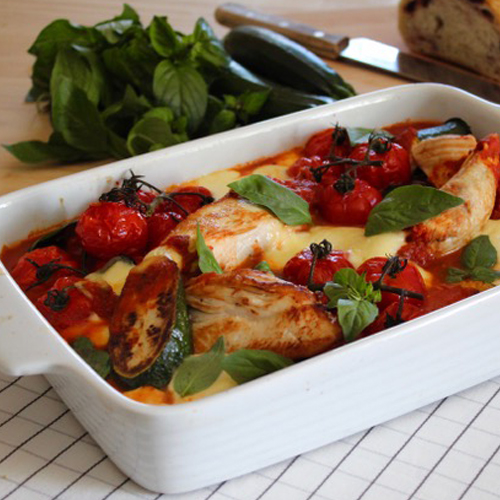 Italian baked chicken
Ingredients
1 tablespoon olive oil
1 jar Paul Newman's Own Bolognese Sauce
2 large chicken breasts, halved lengthways
2 zucchinis, quartered
1 punnet cherry tomatoes
200g mozzarella, sliced
Small handful basil leaves
Method
Preheat the oven to 180°C, and grease a large baking dish with olive oil.
Pour half of the Paul Newman's Own Bolognese Sauce into the baking dish.
Place the chicken breast and zucchini into the sauce.
Top with the remaining Bolognese Sauce, cherry tomatoes, and mozzarella.
Place in the oven, and cook for 20-25 minutes, or until the chicken is cooked through.
Remove from the oven, and top with basil leaves to serve. Serves 4.
[wp_social_sharing social_options='facebook,twitter' facebook_text='' twitter_text='']