You're using an outdated browser. Please upgrade your browser or activate Google Chrome Frame to improve your experience.
Categories
Homemade loaded chips with pulled pork
Search Products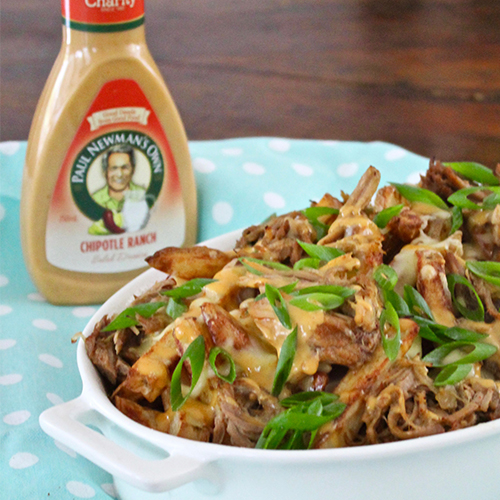 Homemade loaded chips with pulled pork
Ingredients
For the pulled pork:
1kg boneless pork shoulder
2 teaspoons ground cumin
2 teaspoons ground coriander
2 teaspoons paprika
Salt
2 brown onions, sliced
2 cloves garlic, crushed
1 litre chicken stock
For the chips:
500g large white potatoes
2 tablespoons butter, softened
Sea salt
1 cup grated cheese
½ bottle Paul Newman's Own Chipotle Ranch Dressing
2 spring onions, sliced
Method
For the pulled pork:
Preheat the oven to 150°C. Place the pork shoulder onto a chopping board, skin side down. Rub the ground cumin, coriander, paprika and a pinch of salt into the flesh of the pork.
In a deep, heavy braising pan, add the onions and garlic. Top with the pork shoulder, skin side up. Add the chicken stock to the pan, and fill with water until the pork is submerged. Place in the oven for 4-5 hours, until the pork is beginning to fall apart. Remove the pork from the dish, and set aside to cool slightly. Discard any large pieces of fat, and roughly shred the meat.
For the chips:
Preheat the oven to 190°C. Cut the potatoes into long fingers, approximately 1cm thick. Rinse under cold water and pat day with a tea towel. Place the potatoes onto two large baking trays and add the butter and a generous pinch of salt. Mix to combine, before spreading the potatoes into a single layer, and placing in the oven. Cook for 45-50 minutes, tossing the potatoes occasionally, until very golden.
Pile the chips onto one baking tray. Sprinkle with pulled pork and grated cheese, and place in the oven for 5 minutes, or until the cheese has melted. Transfer the loaded chips to a serving place, drizzle with Paul Newman's Own chipotle ranch dressing, and garnish with spring onion. Serves 4-6.
[wp_social_sharing social_options='facebook,twitter' facebook_text='' twitter_text='']