You're using an outdated browser. Please upgrade your browser or activate Google Chrome Frame to improve your experience.
Categories
Balsamic Chicken Caprese
Search Products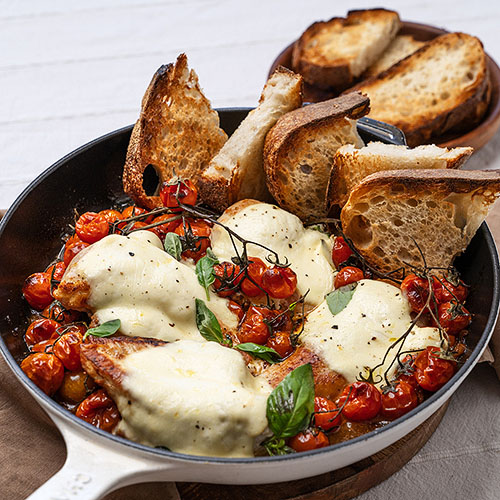 Balsamic Chicken Caprese
Ingredients
2 tablespoons extra virgin olive oil
4 x chicken breasts (about 800 g – 1 kg)
2 cloves garlic, minced
2 shallots, finely sliced
½ cup Paul Newman's Own Balsamic Dressing
¼ cup chicken stock
500 g (2 punnets) cherry tomatoes or cherry truss tomatoes
150 g Buffalo mozzarella, sliced
1 bunch basil, leaves picked, to serve
4 thick slices of sourdough, toasted, to serve
Method
Preheat the oven to 200°C. Season the chicken on all sides with a pinch of salt and pepper.
Heat a large, oven-proof frying pan over medium-high heat. Add in a good glug of olive oil and add in the chicken breasts. Fry on all sides until browned all over. Remove chicken and set aside. Add the garlic and shallots into the frying pan and cook for 2 minutes, or until caramelised. Add in Paul Newman's Own Balsamic Dressing, chicken stock and cherry tomatoes. Bring to a simmer, then remove from the heat and nestle the seared chicken breast back into the pan. Place into the oven and bake for 15-17 minutes until the chicken is cooked through.
Carefully remove the dish from the oven and place the mozzarella slices on top of the chicken. Turn the oven to high grill and place the dish in the top half of the oven. Grill for 5 minutes until the cheese is melted.
Serve the Balsamic Chicken Caprese with fresh basil leaves, toasted sourdough chunks and a pinch of salt and pepper to season.
 
Serves 4
Prep time 10 mins
Cook time 30 mins
 
Credits
Recipe: Meg Yonson
Styling and Photography: Una Más
[wp_social_sharing social_options='facebook,twitter' facebook_text='' twitter_text='']