You're using an outdated browser. Please upgrade your browser or activate Google Chrome Frame to improve your experience.
Categories
Avocado + Fennel Green Salad
Search Products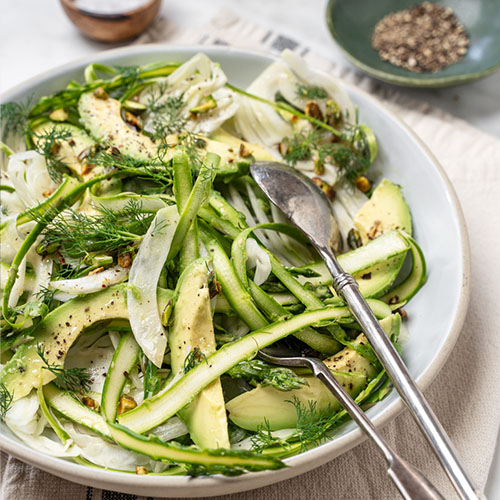 Avocado + Fennel Green Salad
Ingredients
1 small fennel
2 bunches asparagus, wooden end (about the last 3 cm) chopped off
1 large avocado, sliced into wedges
¼ cup pistachios, roughly chopped
2 tablespoons dill leaves
¼ cup Paul Newman's Own Classic Dressing
Pinch flaky sea salt
Freshly ground black pepper
Method
Finely slice the fennel on a mandolin (or finely sliced with a chef's knife) and shred the asparagus by peeling strips of each stalk with a vegetable peeler.
Fill a large mixing bowl with water and place in about 1 cup of ice cubes. Allow to melt slightly then add in the fennel and asparagus. Allow them to sit for a few minutes while you toast the pistachios. Note: Putting the veggies into this ice bath will help them stay perky and crisp. This trick will help the veggies stay crisp for hours, so you can prepare your vegetables in advance for your Christmas lunch!
Heat a large frying pan over medium heat. Add in the chopped pistachios and toast for 3-4 minutes, tossing regularly, until lightly golden.
Place the fennel and asparagus onto a large serving platter. Place in the avocado wedges. Sprinkle over the pistachios and then drizzle the Paul Newman's Own Classic Dressing over the lot, seasoning with a pinch of salt and pepper. Serve garnished with dill sprigs.
Serves 6 as a side
Prep time 20 mins
Cook time 5 mins
[wp_social_sharing social_options='facebook,twitter' facebook_text='' twitter_text='']